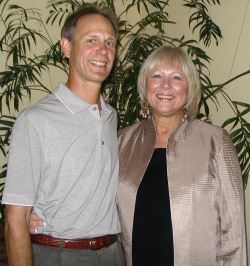 Welcome to Affordable-Land.com. I'm Michael Long, and my wife's name is Aerial. She and I have helped hundreds of people find land to build on at an affordable price, with affordable terms, in south central Oregon, Klamath County. We have now expanded into Siskiyou County, California as well.
For over twenty five years we've offered land with no credit check, as low as $500 down, with payments between $150 and $300 per month. Most of our land parcels are 1.5-2.5 acres each. Ready for fresh air, sunshine, and a "football field or two" of land to raise animals, gardens, and children on?
We've sold land since the late 1980's with our oregonland.cc web site as Michael E. Long, Inc. We are now expanding to include Affordable Land, LLC.
Most of our land is sold sight unseen. To ensure all of our buyers end up with land they love, we offer a one year policy to switch equity to another parcel, if you buy sight unseen and don't like the land when you view it.
Our land parcels are zoned for one home. Manufactured homes and animals are OK. All of these properties are in the country, close to small towns, and septic is required to handle the sewer if you are to build. For water, you'd have to haul it in, or drill a well. Some of our parcels have power and phone, some are remote. Some are on paved roads, some with gravel, and a few are dirt roads.
If you are searching for affordable land in the country, and don't mind 290-300 days of sunshine per year, with 80 lakes and 100 rivers nearby, you might check out what listings we have available at this time. They come and go quickly thanks to the internet.
To live on the land in Oregon you must start the process with the Klamath County Planning Department. On site evaluations run approximately $800 at this time. Test holes will need to be dug to determine the type of septic. Plans are needed to show where the home, septic, and well, will sit on the land. To live in your RV while improving, a placement permit is also required by the county.
The land parcels in Siskiyou County California, just below the OR/CA border, south and west of Klamath Falls, Oregon, are also zoned for homes. Camping by owner is legal on these parcels. To build and improve requires Siskiyou county permits.
Notice of New Camping Regulations: Effective 6/23/17
Click the following link to read the new rules: Official Klamath County Camping Regulations
Ready to see our current inventory?

Thanks for visiting our site! We wish you and your family the best in your quest to find affordable land in the country!
Let us know if we can help you in any way!
Sincerely,